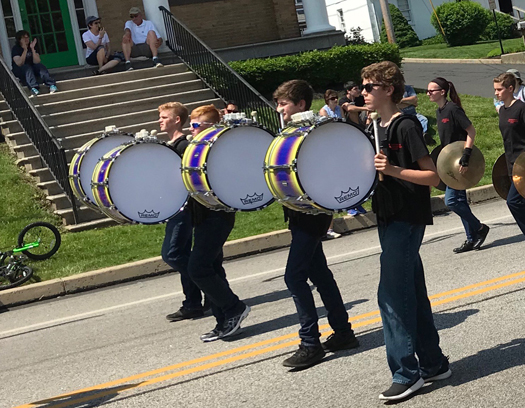 Welcome to the 2020 Big Red Marching Band season! We look forward to a year of fun and educational experiences and want to start the year off right by welcoming our new and returning families with this packet. Please review the following items and join us at the mandatory parent meeting the night of August 19 with any questions you may have. You will want to bring a checkbook to the meeting as you will have the opportunity to purchase necessary items as well as pay the membership fee.
About the Sponsorship Program
Each year, the Boosters must raise $30,000 annually to cover budgeted expenses. To do that, we need the help of every family involved in the marching band program.
The Sponsorship Program, which we began in 2015, has become a big part of our fundraising efforts. Through this program, we ask the marching band students to reach out to friends, family members, and area businesses to ask for their support. The program goal is to raise $150 per student. We understand that some students may raise more and some may raise less, but working together we feel we can achieve this overall goal. Raising funds through this program has allowed us to reduce other fundraising efforts, including some of the volunteer-intensive efforts.
Your child will receive a sheet of five mailing labels at Band Camp. We are asking each band member to come to Band Camp with at least five names and addresses (personal or business) to be written on these labels. These labels will then be used in a mass mailing that the students will work on during band camp.
Please consider how you can help us with this fundraising effort. We all have contacts, friends, and family members who will respond to our student requests for support, and we encourage you to think carefully about who you can include in this mailing campaign. Students, don't be afraid to include your grandparents, aunts, uncles, siblings and even your parents! Parents, please reach out to any area businesses you may have a connection with and ask for their support.
It takes your volunteer time and the support of many to make our program successful. Thank you in advance for your participation in making the Souderton Area High School band program one we can all be proud of.