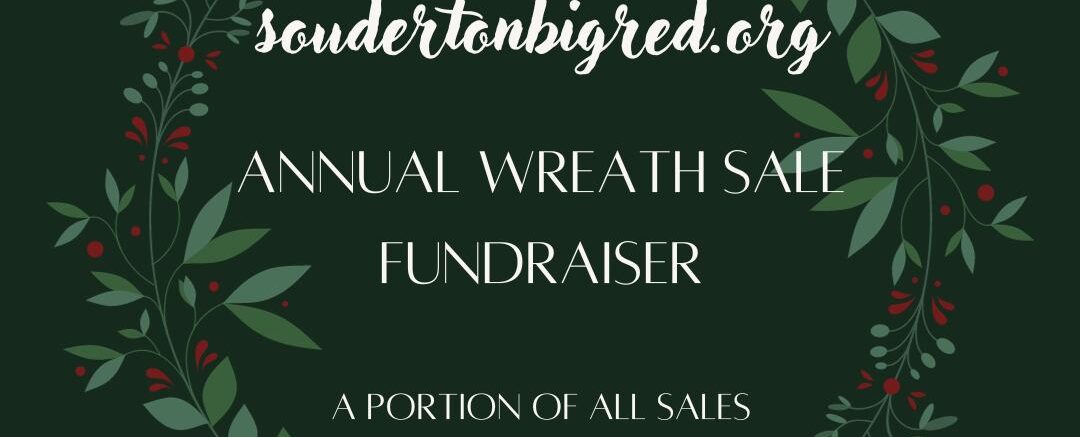 A Souderton Tradition …
Each fall, the BRBB sells evergreen wreaths. The wreaths are usually available in November. Dates, times, and locations are listed on the forms.
These are beautiful holiday wreaths with berries, pinecones, and a big red bow, just perfect for your front door for the holidays… your friends, family, and teachers will enjoy supporting you and the band this way.
The price of a wreath is just $30.
Why should I sell wreaths?
Both you and the band will get fundraising dollars for each wreath sold.
Student credit is $3-$5 per wreath depending on the band's total volume of sales. That translates to money you can spend on BRBB-approved expenses, such as the BRBB participation fee, trips, and director-mandated uniform components.
How do I sell them?
Friends and family orders are collected on the two-page Order Summary Form. These orders/money are due Oct. 22 to the Red Box.
Faculty/Staff orders are collected on the small (half-page) Faculty & Staff Order Form, and they go in the Red Box too.
Where do I get sales?
Feel free to post the sale on Facebook! This has been the best way to get tons of sales.
Thank you! Your participation in this sale is huge – no matter if you sell 1 wreath, 25 wreaths, or 200 wreaths! The band appreciates your efforts. Remember, this is your way to fundraise, for yourself and for the band.
2023 Wreath Sale Timeline
Click here for payment info
October 27 – Orders Due
November 22 – Pick-Up Day, 4:00-8:00 pm*
Questions? Email wreaths@soudertonbigred.org.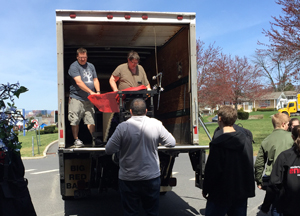 Before you volunteer, you must fulfill the SASD volunteer requirements. BRBB volunteers are considered "Program Volunteers." Program Volunteers shall be required to renew these clearances every 60 months.
Visit the SASD Volunteers page to read the official description of the District's volunteer requirements, to read about the clearances you need to obtain, and to find links to the forms you need to complete.

View descriptions of some of the volunteer roles:
General

Obtain Clearances
Decide how you can best help
Sign up for a slot
Obtain Clearances
The following forms need to be completed in order to volunteer for the BRBB:
To be completed every year:
SASD Community Volunteer and Disclosure Statement (form available on the SASD website)
To be completed every 60 months*:
PA Act 34 Criminal History Report
PA Act 151 Child Abuse Clearance Statement
The two Pennsylvania clearances are free for volunteers and can be completed online. To apply online, go to the "Forms and Links" area at the bottom of the Volunteers page on the SASD website.
The Federal Criminal History Record Information (CHRI) Report (including fingerprinting) is required only if you meet this criteria:- You have lived outside of Pennsylvania for any part of the previous ten years.
– You have been convicted of an offense under §6344 of PA Act 134.
For Pennsylvania, the CHRI clearance process is managed by a third-party company, IdentoGO. More information can be found on the SASD website.
To be completed one time only (once & done):
This can be administered by the school nurse, by your personal physician, or at your workplace. For more information, see this FAQ.
Decide how you can best help
There are many opportunities to serve the BRBB.
Here are just a few examples:
Chaperone – supervise students
Concession Stand – help sell snacks and drinks at home football games and home competitions.
Middle Red Driver and Ground Crew – towing trailer with Middle Red (Gator), help load and unload equipment and help the band onto/off field at away games and competitions
Ground Crew – set up on the field and load/unload truck
Baker – provide 24 individually-wrapped baked items for concessions
Miscellaneous jobs for special events such as the Evening of Jazz (jazz band home show), Music in Motion (indoor home show).
Sign up for a slot
Volunteer signups are handled through Sign Up Genius: