Thinking about joining the Marching Band?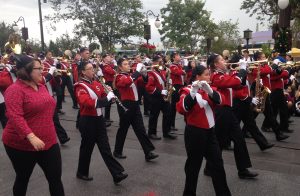 New Members Are Always Welcome!
More information can be found throughout our website, particularly in the About Us and Parent Central sections.
When is Marching Band season?
The official Marching Band Season begins with Band Camp in the middle of August and runs through the end of October/early November (depending on whether our football team makes it to the playoffs).
How often do they practice?
During the two weeks of Band Camp, practice times vary, but most days it runs from 1:00pm to 9:00pm. See calendar for 2019-20 schedule.


During the school year, practice takes place twice a week after school and some Saturdays in the Fall. There are a few after school practices in the Spring to prepare for participation in parades. See calendar for 2019-20 schedule.


Competitions are usually on Saturdays in the Fall.
Where does the Marching Band perform?
Football Games
Competitions
Local Parades – and once every 4 years, the Disney parade down Main Street (see video below).
Where can I see some past performances?
View our past performances here.
See a sampling of the different types of performances at the bottom of this page.
What is Indoor Percussion and Winter Guard?
Like any extracurricular activity, there are fees associated with Marching Band. Is there any way I can earn money to offset these fees?
Our parents participate in two programs that help earn money that can be applied to the costs of the program – the Scrip program and Student Credit.
You can get started earning money with the Scrip program immediately. Click here to learn how…
What events make up a typical year in the life of a student in the Big Red Marching Band?
Click here to view a document that will give you an idea of what a typical year looks like.
Where can I find contact information for the Big Red Marching Band?
Our Band Director is Rick Freda. A complete list of our Band Directors, Supporting Staff, Executive Committee and Parent Committee Heads can be found here.
This YouTube video (below) gives a good representation of what Marching Band is all about. The students who speak could easily be our students.
Try It Night
What is it?
An opportunity for rising freshmen and any other students who play an instrument and are interested in learning more about marching band. Come out and experience a marching band practice to see if it is for you.
2019 Dates:
Wednesday, June 5, 6-9 pm
Wednesday, June 12, 6-9 pm
Location:
Souderton Area High School Band Room – 1st Floor
Commitment Contracts due on 6/19
Marching Band Commitment Contracts for the 2019-20 season are due on Wednesday, June 19th.

Click here for a Microsoft Word file.

Fill out the form on your computer, then print and sign.

Click here for a PDF that you can print and complete by hand. (best for mobile devices)
The Marching Band meets on Wednesday nights in the summer (see calendar for exact dates). 
Don't worry, these practices are optional, but they do help us prepare for the upcoming season – and have fun at the same time, so come to as many as you can!
What is the Big Red Band Boosters (BRBB)?
The Big Red Band Boosters (BRBB) raise money to support our band program, which includes Marching Band, Indoor Percussion, Winter Guard, Jazz & Lab Bands, and Symphonic & Concert Bands. The BRBB parent volunteers meet once a month and help throughout the season with band events, activities, and performances.
See what the BRMB and the BRBB does in the Community by viewing the Community tab under the Calendar on the website.
2018-19 Nationals Competition
Stand Tunes at Football Game
BRMB at Disney Parade (2017)